ACO wins Red Dot Award for Voronoi design grating
(Posted 09 Nov 2020)
Awarded: The Voronoi design-grating
Inspired by the beauty of nature
For more than 60 years, 'Red Dot' has established itself internationally as one of the most sought-after quality seals for good design. Once a year a jury of experts meets and evaluates the products, communication projects, design concepts and prototypes submitted to the competition. In three categories - product design, brand and communication design and design concepts - only the best applications are awarded. Under the motto "In search of good design and innovation" a total of 6,500 submitted products were individually tested - the ACO Voronoi Design received the "Red Dot Product Design 2020" award.
The creative power of the designer Franck Magné combined with the know-how of ACO has enabled the development of a unique product. An almost poetic reproduction of nature, which gives the Voronoi grating a contemporary elegance. This once again demonstrates the excellent international cooperation within the ACO Group. The design was developed at ACO in France, nominated for the Red Dot Award in Germany and is now beginning to inspire other markets. A personalised signature for every house, a unique identity for every location.
In the casting process a compound of iron and carbon forms the Voronoi grating. Its characteristic is its natural structure. The pattern, which is based on a mathematical principle, can be seen, among other things, in the cracks of drying earth or the wings of a dragonfly. No wonder that the Voronoi structure can also be found in many other areas of life, such as architecture or even art.
For more information on this grating, and the complete residential drainage solution, go to the residential drainage section in this website.
---
Expect to see much more of ACO as it adopts a top down approach
ACO Systems South Africa and sub-Sahara Africa welcomes Ricky Chatburn as its new managing director.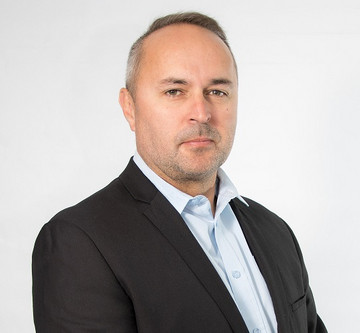 Plumbing Africa Magazine, September Issue 2020
By Eamonn Ryan
With his strong background in accounting, and having worked for United Technologies Corporation as sales and marketing director, looking after Chubb Fire and Security, Otis and Carrier and in his most recent role of vice president sub-Sahara Africa at Assa Abloy, he has a wealth
of experience both regionally and in the building sector.
In December 2016, ACO acquired the 30-year-old brand Rofo, which specialises in the designing and manufacturing of quality stainless steel drainage systems, stainless steel fabrication and machining. "The strategy behind this merger was to combine world expertise with local knowledge, and we have seen significant growth since," says Chatburn.
His appointment heralds a shift in strategy by the company in a number of areas: to work closer with wholesalers; to raise the company's visibility; and to grow the African component of its business. ACO has opened up offices in Kenya and Nigeria in the past 12 months, as well as appointed various distributors and agents in various African countries.
"In the past, the company sold predominantly to the end user, now a bigger focus is on specifications and aligning with the natural flow of the industry whereby the plumber buys from the wholesaler, and will find our products there. Our interest is in creating sustainable drainage solutions and consequently we want to be involved in the design phase of projects via our relationships with architects and wet services engineers. "We have increased our sales force in order to expand our brand visibility and get closer to customers, and have more show rooms
where we can bring architects and engineers for education tours of our offerings. Since the merger, we have the full range of solutions. These include an outside storm water management system which collects water and releases it slowly into the environment, providing solutions for various applications such as airports, harbours and sports fields to name a few. We have equally appropriate drainage for inside buildings," says Chatburn.
ACO has also recently turned its eye to the rest of sub-Sahara Africa, he says, where the biggest problems is the stealing of manhole covers and the health risk associated with open channels. "We have a solution in our 'composite manhole covers' made of materials less prone to theft. This is starting to take off in Africa, and Africa is where we see strong growth coming from. The continent is rapidly urbanising, creating the need for our products, especially in the hygienic food drainage solutions segment.
He also sees an opportunity for growth in another of its products: grease traps. "Regulation is starting to become a factor in driving
the market in sub-Saharan Africa, and we propose to involve ourselves with assisting governments in the formulation of regulations as they relate to hygiene. In many African countries the sewage still simply flows into the streets or rivers, but it is increasingly becoming top of mind as an environmental and health risk to the population. The tremendous growth in the African population has not been matched by the investment into sewage and drainage infrastructure, and this affects the health of the continent both as to the spread of malaria and the fact that grease and waste disposal into the public sewage systems is the most common cause of blockages. These areas are bound to
become a greater focus on the continent," explains Chatburn.
To assist the plumber and customers, ACO is increasingly offering 'drainage assessments' to potential clients keen to improve their
hygiene and drainage solutions before it becomes a problem or affects the hygiene of a food or beverage producer.
ACO Systems launces new linear shower drain in South Africa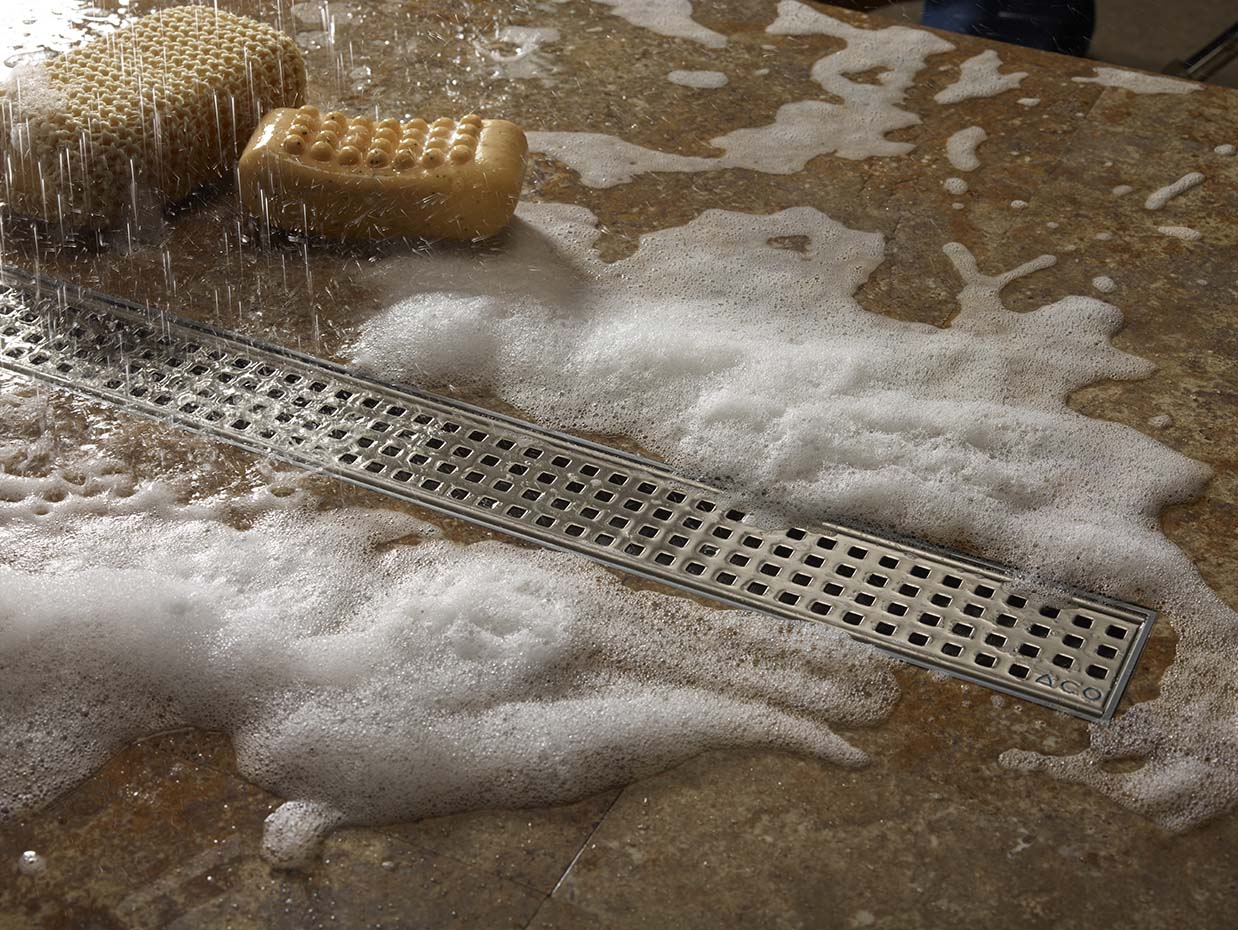 September 2020
ACO Systems South Africa is launching the latest addition to our locally manufactured Shower Drainage range.
The ShowerDrain M+ linear range is available in standard lenghts of 500mm, 700mm and 900mm, with a variety of grate profiles to choose from. We are in the process of finalising the design of the 250mm shower channel, and this line will be available to the market at the of September 2020.
For more information on this range, and other upcoming product develpoment information, contact us on 011 824 3525 or email us on info@aco.co.za.
---
ACO Africa fights Covid-19
20-June-2020
---
---
---
---